IRONWOOD CrossFit – CrossFit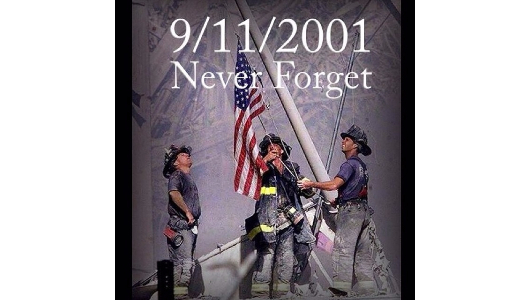 Warm-up
30 Second Rotations:

Alternating between partners.
Slow Row

Active Spidermans
Medium Row

Push-up to Down Dog
Fast Row

Air Squats
"Barbell Warmup"

5 Good Mornings

5 Back Squats

5 Elbow Rotations

5 Strict Presses

5 Stiff-Legged Deadlifts

5 Front Squats

(completed with empty barbell)
Metcon
9/11 Memorial workout that is done to honor those who lost their lives 16 years ago. One partner working at a time, breaking up work as you see fit. Want to choose a weight for the Bear Complexes that athletes could complete 15+ Push Press unbroken when completely fresh.
Always Remembered (Time)
Teams of 2:

2001 Meter Row Buy-In

4 rounds:

9 Rope Climbs

11 Bear Complexes (135/95+, 115/80)

2977 Meter Row Cash-Out
Bear Complex = Power Clean, Front Squat, Push Jerk, Back Squat, Push Jerk (Back Rack).

In this complex, stand up the power clean fully before starting the squat. Finish the both squats in full (stand to extension) before moving into the push jerk. Today we are to complete each movement in full before moving onto the next, as opposed to blending the movements together (such as a squat clean).

Note – If we are not comfortable bringing the bar from overhead to the back rack, complete the following complex:

Power Clean + Front Squat + Push Jerk + Front Squat + Push Jerk
Today is a day that we honor the fallen.

The 2001 meter row represents the year.

The 4 Rounds represents the four planes.

The 9 Rope Climbs represents the month.

The 11 Bear Complexes represent the day.

The 2977 meter row represents the lives lost.
Scales:

Rope Climbs –

Cut Reps

Strict Pull-Ups (2:1)

Ring Rows (6:1)
Fitness: Always Remembered (Time)
Teams of 2:


2001 Meter Row Buy-In


4 rounds:


9 Rope Climbs


11 Bear Complexes (95/65)


2977 Meter Row Cash-Out