IRONWOOD CrossFit – CrossFit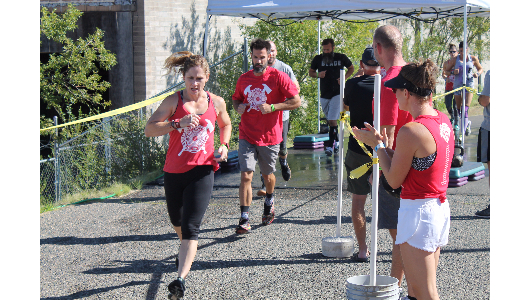 Warm-up
200 Meter Slow Jog + 5 Walkouts + 10 Alternating Spidermans 


100 Meter Slow/Medium Jog + 5 Scap Retractions + 10 Sit-Ups


100 Meter Medium Jog + 5 Inchworms + 5 Toes to Bar
2 Rounds, resting 1:00 between. Build in intensity:

100 Meter Run, 3-6 Toes to Bar

Aim is to find our workout pace, and dial in the transition moving to our first Toes to Bar.
Metcon
CEMENT MIXER (Time)
Every 3:00 for 7 Sets:


400/300 Meter Run


12 Toes-to-Bar
Complete a 400/300 meter run + 12 TTB. Time remaining in the 3:00 window is rest. Your score in this workout is your slowest round. As an example, if your set times finish at – 2:05, 2:03, 2:05, 2:09, 2:19, 2:30, 2:16…. your score today would be 2:30 (the slowest round).
In order to hit the sweet spot of intensity on this one, wherever you are at 2:20 (:40 on clock) on the first round will be your target number for the remaining rounds.
What we do not want to have here is that first round finishing at 2:40 or later… ultimately that will result in missing a start time later in the workout, and will also result in diminished intensity.
SCALES:

300/200m Run

400/300 Row

Knees to Chest

Sit-ups